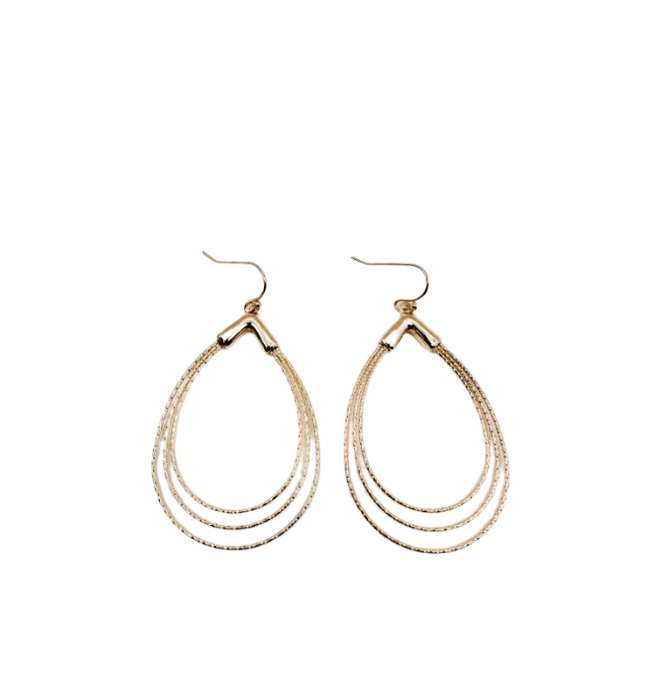 Triple Teardrop Earrings
Introducing our stunning Triple Teardrop Wire Dangle Earrings. These earrings are the epitome of elegance and sophistication, designed to add a touch of sparkle and style to any outfit.
Triple Teardrop Design: Featuring a unique triple teardrop design, these earrings exude a sense of grace and beauty. Each teardrop is delicately textured, creating a captivating sparkle that catches the light beautifully.
Dangle Earrings: The dangle style adds movement and flair to these earrings, allowing them to sway gracefully with every step you take. They are sure to attract attention and compliments wherever you go.
Perfect Length: Measuring approximately 2 inches, these earrings strike the perfect balance between statement-making and comfortable wear. They are ideal for both casual and formal occasions, adding a touch of glamour to any look.
Versatile and Sparkling: The textured sparkle of these teardrop earrings ensures that they are versatile enough to complement a variety of outfits. Whether you're dressing up for a special event or adding a touch of sophistication to your everyday attire, these earrings are the perfect choice.
Quality Craftsmanship: Crafted with precision and care, these earrings are made to last. The high-quality materials and attention to detail ensure that you can enjoy these dazzling earrings for years to come.
Step into the spotlight with our Triple Teardrop Wire Dangle Earrings. Elevate your style and let these sparkling earrings be the focal point of your ensemble. Embrace the beauty and elegance they bring, and prepare to dazzle on any occasion.
Don't miss out on this stunning addition to your jewelry collection. Order now and experience the magic of our Triple Teardrop Wire Dangle Earrings. Get ready to shine bright and make a fashion statement like never before!