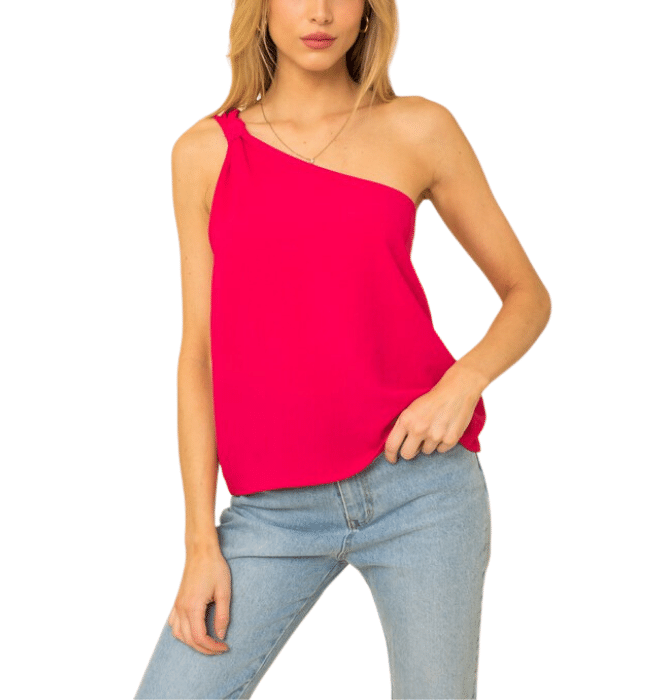 Venus Knotted One Shoulder Top
Venus Knotted One Shoulder Top, a chic and stylish piece that will elevate your summer wardrobe. This top features a flowy fit and a knotted one shoulder design, adding a touch of elegance and sophistication to your look.

Crafted from a textured material, this top offers a unique and eye-catching appeal. The textured fabric adds dimension and visual interest, setting it apart from ordinary tops. Made from 100% polyester, it ensures a lightweight and comfortable feel.

The knotted one shoulder detail creates a fashionable asymmetrical look that is both trendy and flattering. It adds a playful and unique twist to the classic one-shoulder style, making this top a standout choice for any occasion.

With its flowy fit, the Venus Knotted One Shoulder Top drapes beautifully on the body, allowing for effortless movement and a relaxed silhouette. It is designed to provide both comfort and style, making it a versatile option for day or night.

Available in Hot Pink or Dusty Blue, you can choose the color that best suits your personal style. The vibrant Hot Pink adds a bold and statement-making touch, while the Dusty Blue offers a softer and more serene vibe. Both options are versatile and can be easily paired with a variety of bottoms.

Whether you're attending a summer party, going on a date night, or simply enjoying a day out, the Venus Knotted One Shoulder Top is a perfect choice. Pair it with high-waisted jeans, skirts, or shorts for a stylish and effortlessly chic ensemble.