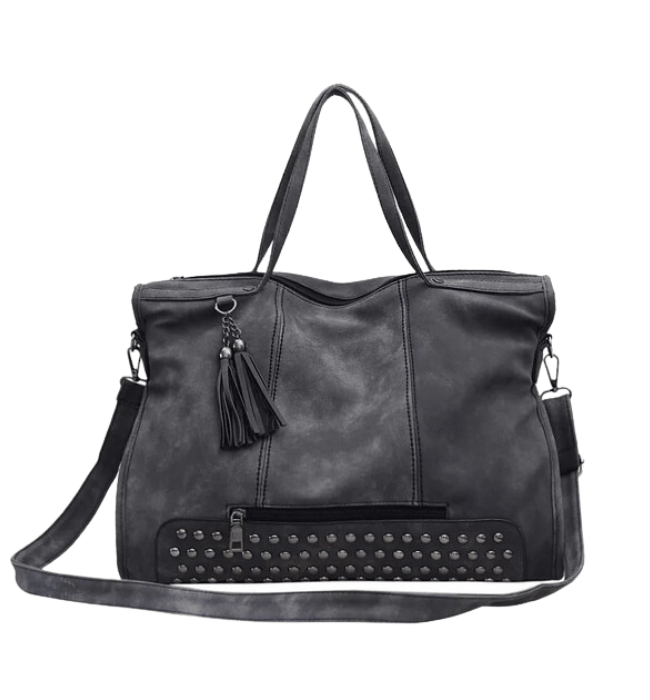 Washed Black Studded Bag
Discover the epitome of edgy elegance with our Women's Rivet Handbag Purse Tote Shoulder Bag - a true fashion statement that exudes sophistication and style. This handbag is designed to be the ultimate blend of functionality and fierce flair, perfect for the modern woman who knows how to make a lasting impression.
One look at this masterpiece, and you'll be captivated by the Awesome Details that set it apart from ordinary handbags. Adorning the exterior are stunning RIVETS that add a touch of rebellious charm, making this bag a true head-turner. The rivets not only enhance its style but also ensure durability, giving it a rugged edge that complements any outfit.
Practicality meets luxury with the Lined Inside, which not only protects your belongings but also adds a touch of refinement to the overall design. The interior of this handbag is thoughtfully designed with two open pockets and two zipper pockets, providing ample room to organize and separate your essentials with ease. Now, you can find your keys, phone, and other items effortlessly, eliminating the hassle of rummaging through your bag.
Carry options abound with this versatile handbag. The Carry Handles offer a classic and sophisticated way to hold your bag, while the Removable Shoulder Strap allows for hands-free convenience when you're on the move. Choose the style that suits your mood or occasion and embrace the freedom of carrying your essentials just the way you like.
The Women's Rivet Handbag Purse Tote Shoulder Bag boasts spacious dimensions of 16.5" x 12" x 6", providing ample space for all your belongings. The Feet on the Bottom offer added protection to keep your bag safe and clean when you set it down.
Whether you're heading to a chic event, a casual outing with friends, or a day at the office, this handbag will effortlessly complement your style and elevate your look. Embrace the boldness of rivets, the charm of practicality, and the allure of timeless design - experience it all with our Women's Rivet Handbag Purse Tote Shoulder Bag. Make a statement that speaks volumes about your fashion-forward attitude - get yours now and embrace the world of edgy elegance!