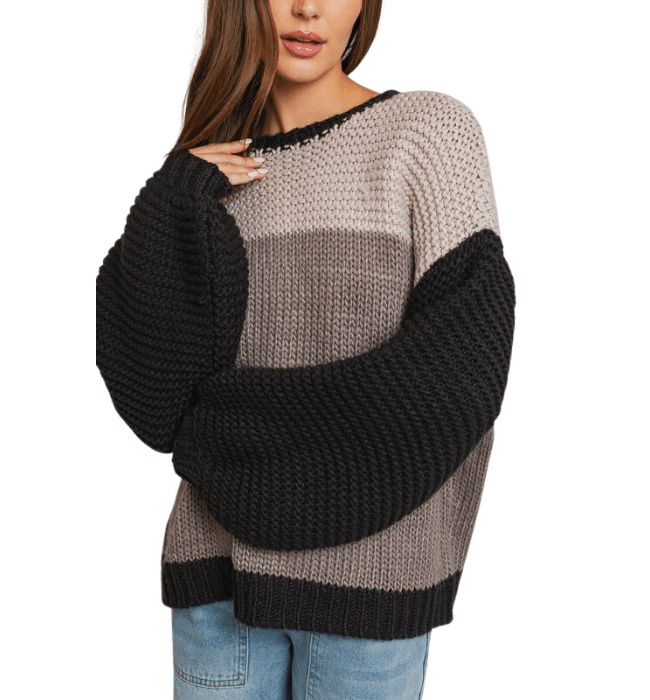 Zara Colorblock Crew Neck Sweater
Zara Colorblock Crew Neck Sweater – a captivating blend of style and comfort that's sure to elevate your fashion game. This loose knit, color block, oversized sweater top is a true masterpiece, crafted to make a bold statement.
Made from 100% acrylic, this sweater ensures both warmth and softness, making it a cozy choice for cooler days. The loose knit texture adds a touch of depth to the design, giving it a unique character that stands out.
The color block design is a striking feature of this sweater, featuring shades of gray contrasted with bold black accents. This combination is not only visually appealing but also versatile, making it easy to pair with your favorite bottoms for a chic and dynamic look.
The round neck and oversized fit add a relaxed and casual feel to the sweater, making it perfect for both everyday wear and those moments when you want to unwind in style. This top is all about comfort without compromising on fashion.
Whether you're heading to the office, going for a weekend adventure, or simply enjoying a cozy evening in, the Zara Colorblock Crew Neck Sweater is the perfect choice to keep you warm and stylish. Its versatility knows no bounds, and you can easily dress it up or down to suit your mood and occasion.
Add a touch of bold, contemporary style to your wardrobe with this remarkable sweater. The striking color block design and oversized fit make it a standout piece that will surely turn heads. Elevate your fashion game with the Zara Colorblock Crew Neck Sweater – order yours today and experience the perfect blend of comfort and style.