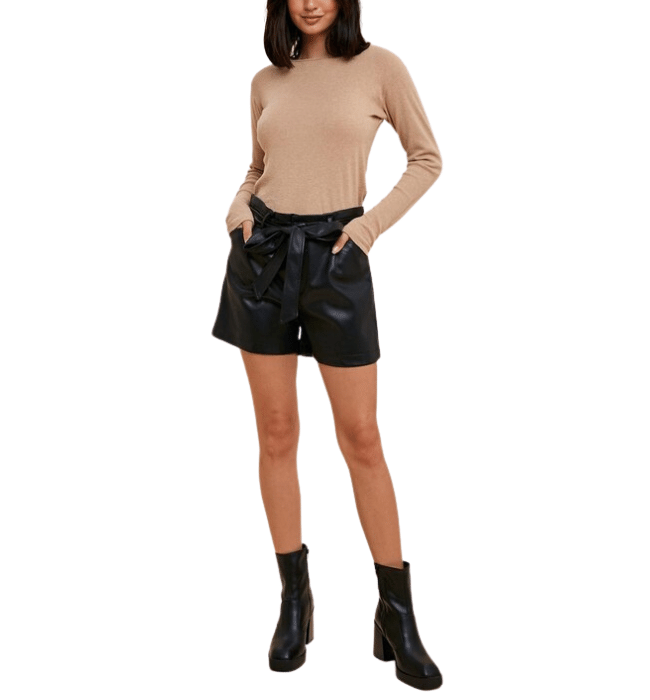 Beacon Vegan Leather Shorts
The Beacon Vegan Leather Shorts – a stunning fusion of style, comfort, and conscious fashion. These belted shorts are designed to elevate your look while being kind to the environment, made with vegan leather that's as luxurious as it is sustainable. With a range of features that combine fashion and function, these shorts are a versatile addition to your wardrobe.

Crafted with meticulous attention to detail, the Beacon Vegan Leather Shorts boast a perfect blend of materials. The self is composed of 45% Polyurethane and 55% Polyester, creating a beautifully textured vegan leather that's remarkably soft and eco-friendly. The lining is 100% Polyester, ensuring a comfortable fit that feels great against your skin.

These shorts aren't just about looks – they're designed for your convenience too. With pockets, you'll have a place to keep your essentials, and the stretch waist ensures a comfortable fit that moves with you. The zipper closer adds a touch of sophistication while making it easy to put on and take off.

One of the standout features of the Beacon Vegan Leather Shorts is the included belt, providing a stylish finishing touch that cinches the waist for a flattering silhouette. Whether you're pairing them with a tucked-in blouse or a relaxed tee, these shorts will be the centerpiece of your ensemble.

Moreover, these shorts are lined, adding an extra layer of comfort and ensuring the highest quality in every detail. The Beacon Vegan Leather Shorts are not just an accessory; they're a statement of your commitment to both style and sustainability.

Elevate your fashion game with the Beacon Vegan Leather Shorts, a symbol of chic style and responsible choices. Perfect for day-to-night transitions, these shorts are ready to accompany you on any adventure, whether you're exploring the city or heading out for a night on the town. Choose conscious fashion without compromising on luxury – the Beacon Vegan Leather Shorts are the perfect embodiment of this spirit.