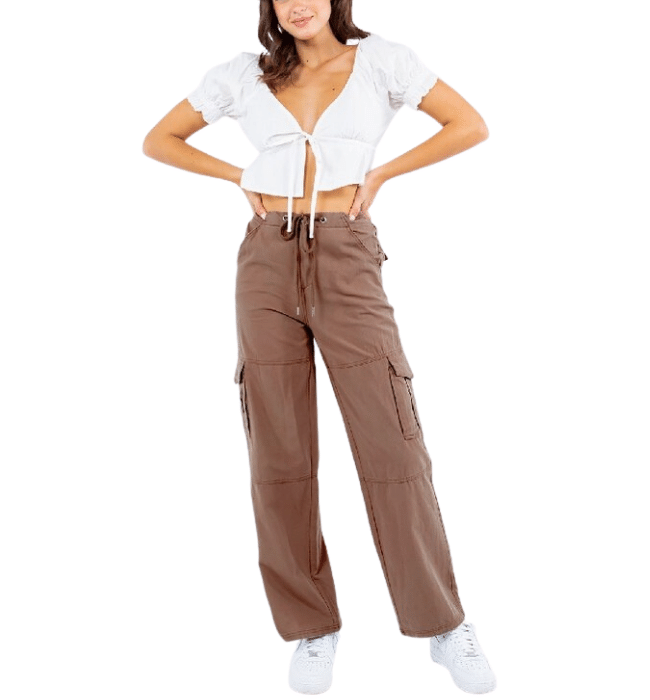 Cinnamon Wide Leg Cargo Pants
Cinnamon Wide Leg Cargo Pants, a versatile and fashionable addition to your wardrobe. Crafted from 100% Cotton Twill, these pants offer both comfort and durability for your everyday wear.

Material: Made from 100% Cotton Twill, our Cinnamon Wide Leg Cargo Pants provide a breathable and lightweight fabric that's perfect for year-round comfort. The soft texture of the fabric ensures you'll feel at ease, no matter where your day takes you.

Features: These pants are designed with practicality and style in mind. The high-rise elastic waistline offers a comfortable fit and adds a modern touch to your outfit. With ample hip, back, and side pockets, you'll have plenty of storage for your essentials while maintaining a sleek silhouette. The button and zippered closure adds an extra layer of convenience and security.

Wide Leg Design: The wide leg design of these cargo pants not only offers a trendy and relaxed look but also provides freedom of movement, making them perfect for any activity.

Whether you're heading out for a weekend adventure, a casual day at the office, or simply running errands, our Cinnamon Wide Leg Cargo Pants are a versatile choice. Pair them with a tucked-in blouse for a chic and contemporary look, or go for a more relaxed style with a graphic tee. These pants are your go-to option for effortless, on-trend fashion.

Upgrade your wardrobe with these stylish cargo pants that combine fashion, comfort, and functionality seamlessly. Don't wait – order your Cinnamon Wide Leg Cargo Pants today and experience a new level of style and ease.