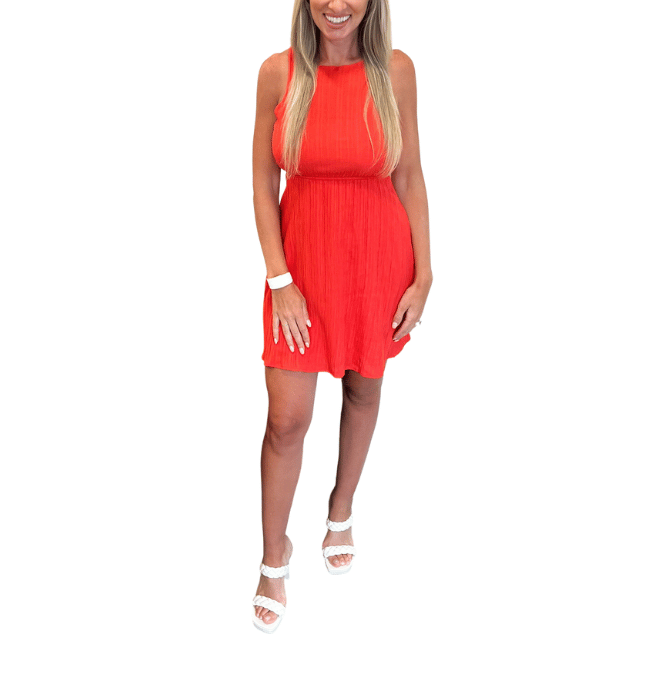 Mavien Tomato Dress
Introducing our stylish Sleeveless Halter Neck Cross Back Open Dress, the perfect addition to your wardrobe for any special occasion or summer outing.
This dress features a flattering halter neck design that beautifully accentuates your shoulders and neckline, giving you an elegant and sophisticated look. The sleeveless design allows for easy movement and breathability, ensuring your comfort throughout the day or night.
The highlight of this dress is the cross-back detailing, adding a touch of allure and modernity to the overall look. It creates a visually striking pattern at the back, showcasing your unique style and adding an interesting element to the dress.
Crafted from high-quality materials, this dress is made from 100% poly fabric, ensuring durability and a luxurious feel. The fabric has a lightweight and soft texture, making it comfortable to wear even on warmer days.
The model in the product images is wearing a size small, and her height is 5'10", providing you with a reference for the fit and length of the dress.
With its combination of trendy design, comfortable fabric, and attention to detail, our Sleeveless Halter Neck Cross Back Open Dress is a must-have for fashion-forward individuals who want to make a statement. Dress it up with heels and accessories for a chic evening look, or pair it with sandals for a more casual and laid-back style. Embrace your inner fashionista and step out in confidence with this stunning dress.