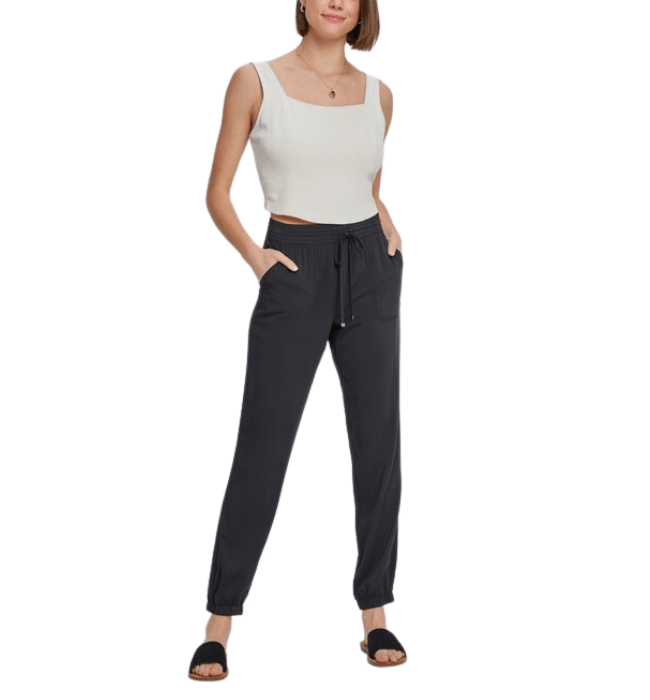 Kacee Drawstring Joggers
Kacee Drawstring Joggers, a stylish and comfortable choice for your everyday wardrobe. These solid black joggers feature a high-rise design with an elastic waistband and a drawstring for a customized and secure fit.

Crafted from 100% rayon fabric, these joggers offer a lightweight and draping feel, allowing for comfortable movement throughout the day. The fabric is soft against the skin, ensuring a cozy and relaxed fit.

With their versatile solid black color, these joggers can be effortlessly paired with a variety of tops and shoes, making them a versatile and essential piece in your collection. Whether you're going for a casual look or dressing them up with a blouse and heels, these joggers are the perfect choice.

The elastic bottoms of the legs not only add a stylish touch but also create a flattering fit that enhances your silhouette. The elastic ensures that the joggers stay in place while adding a trendy and modern touch to the overall design.

The Kacee Drawstring Joggers also feature side pockets, providing convenient storage for your essentials while adding functionality to your outfit. It's perfect for keeping small items like keys, lip balm, or your phone close at hand.

Experience the perfect blend of style and comfort with our Kacee Drawstring Joggers. Made with 100% rayon fabric, these joggers offer a drapey fit and a flattering silhouette. Order now and elevate your casual chic look with these versatile and comfortable joggers.