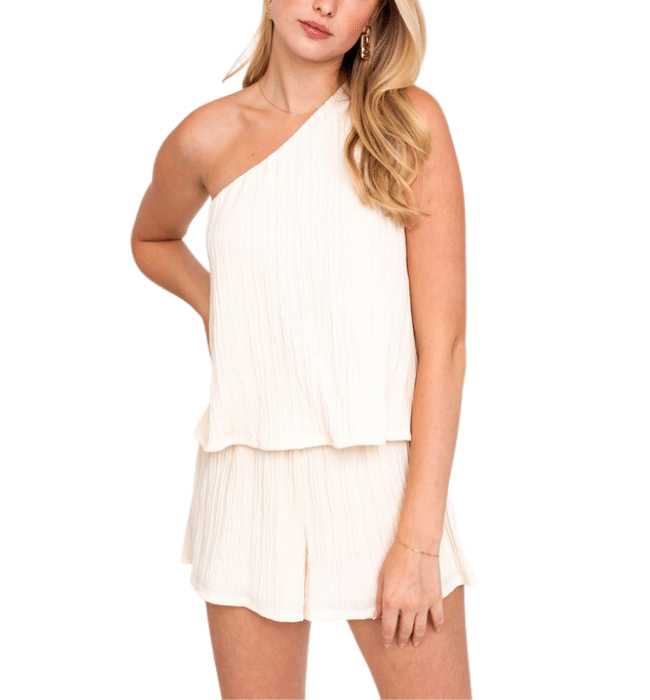 Mariah One Shoulder Romper
Introducing our Sleeveless One Shoulder Layered Top Romper in cream, a versatile and chic outfit choice for various occasions.

This romper features a unique one-shoulder design that adds an elegant and trendy touch to your look. The layered top adds dimension and visual interest, creating a flattering silhouette. The sleeveless style allows for freedom of movement, making it perfect for both casual and dressier events.

Crafted from high-quality materials, this romper is made from 99% poly and 1% spandex. The fabric offers a comfortable and stretchy fit, ensuring ease of wear throughout the day. Additionally, the romper is lined, providing an added layer of comfort and ensuring a smooth and luxurious feel against your skin.

The model showcased in the product images is wearing a size small, and her height is 5'10", providing you with a reference for the fit and length of the romper.

This cream-colored romper is a versatile piece that can be dressed up or down depending on the occasion. Pair it with heels and statement accessories for a stylish evening look, or dress it down with sandals and a denim jacket for a more casual and effortless vibe.

With its fashionable design, comfortable fabric, and attention to detail, our Sleeveless One Shoulder Layered Top Romper is a must-have addition to your wardrobe. Embrace your individual style and make a statement wherever you go with this stunning romper.