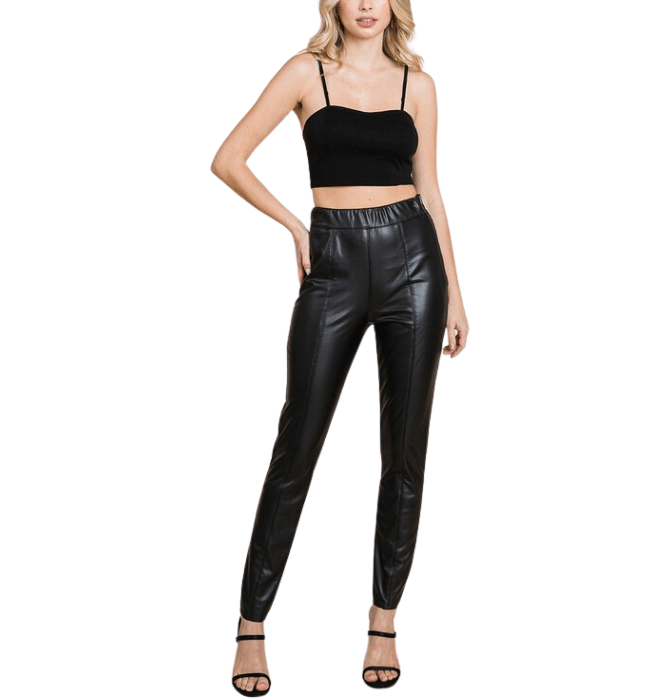 Rue Fleece Lined Faux Leather Skinny Pants
Rue Fleece Lined Faux Leather Skinny Pants—a fusion of fashion and comfort that will make a statement wherever you go. Crafted from a high-quality blend of 45% Polyurethane and 55% Polyester, these faux leather pants offer a luxurious feel with a hint of edge.

Key Features:

Fleece Lined Comfort: Step into ultimate coziness with our Rue pants, boasting a plush fleece lining that keeps you warm while maintaining a sleek, fashionable exterior.

High Waisted Elegance: The high-waisted design not only flatters your figure but also adds a touch of sophistication to your outfit, making these pants perfect for any occasion.

Elastic Waistband: Enjoy the perfect fit every time with the elastic waistband, offering comfort and flexibility without compromising on style.

Side Zipper Closure: The discreet side zipper closure ensures a seamless and sleek look while making it easy to slip in and out of these faux leather pants.

Add a touch of attitude to your outfit with the Rue Fleece Lined Faux Leather Skinny Pants. Explore the world of leather-inspired fashion with confidence, knowing you're not just making a style statement but also staying comfortable in a plush fleece lining. Elevate your wardrobe with these chic and versatile pants today!