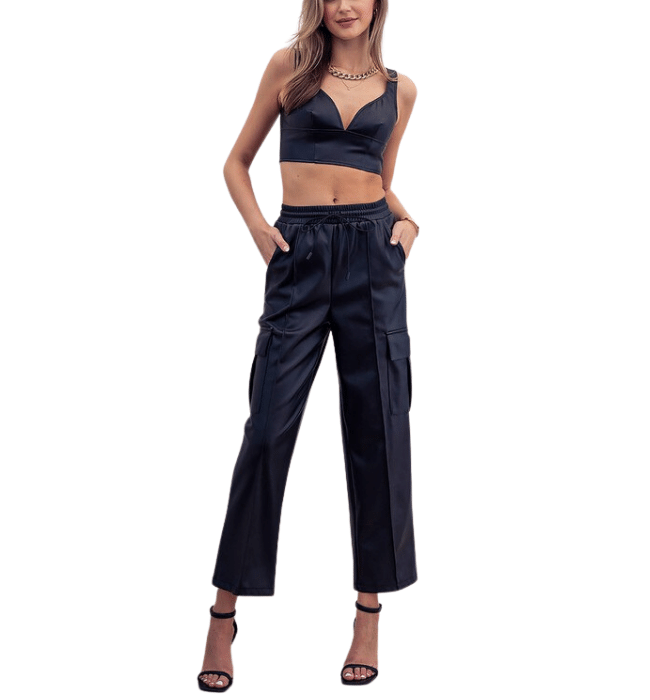 Studio Vegan Leather Cargo Pants
Studio Vegan Leather Cargo Pants – a chic and eco-conscious addition to your wardrobe that effortlessly blends style with sustainability. These pants feature a drawstring waistband, two pockets, and a leather straight leg design, perfect for making a fashion-forward statement.

Material: Crafted from a blend of 55% Polyester and 45% Polyurethane, our Studio Vegan Leather Cargo Pants offer the perfect combination of style and sustainability. The vegan leather material not only looks sleek but also reflects your commitment to a cruelty-free fashion choice.

Features:

Drawstring Waistband: The drawstring waistband adds a touch of versatility to your outfit, allowing you to adjust the fit to your liking.
Two Pockets: The inclusion of two pockets provides both style and practicality, offering storage space for your essentials.
Leather Straight Leg Design: The straight leg design gives these pants a timeless appeal while the vegan leather material adds a trendy twist to a classic silhouette.
On Trend: These pants are designed to keep you at the forefront of fashion, making them the perfect choice for staying on-trend and stylish.
Whether you're heading out for a night on the town, a casual day at work, or simply want to make a bold fashion statement, our Studio Vegan Leather Cargo Pants have got you covered. Pair them with a blouse and heels for a sophisticated look, or dress them down with sneakers and a tee for a more relaxed ensemble.

Upgrade your wardrobe with these stylish and eco-conscious cargo pants that combine fashion, comfort, and sustainability effortlessly. Don't miss out on the opportunity to make a statement – order your Studio Vegan Leather Cargo Pants today and experience the perfect blend of style and ethical fashion.