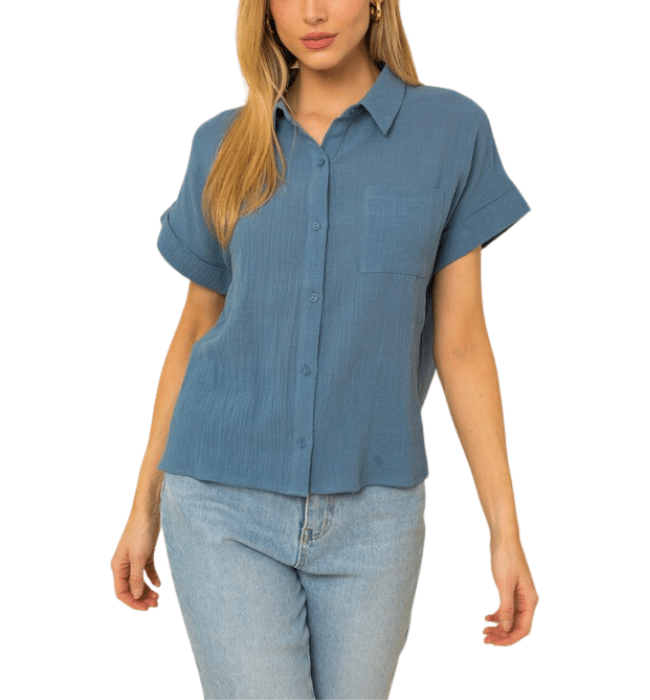 Georgina Linen Button Top
Introducing the Georgina Linen Button Top in Denim Blue, a versatile and stylish blouse that effortlessly combines comfort and fashion. Crafted from 100% cotton, this blouse offers a lightweight and breathable fabric that is perfect for warmer days.

The Georgina Linen Button Top features a hi-lo profile, with a slightly longer length in the back for added coverage and a modern look. This design adds a touch of sophistication to the blouse, making it suitable for both casual and dressier occasions.

With its front chest pocket, this blouse offers a functional and stylish element. The pocket adds visual interest and provides a convenient place to store small essentials, such as a pen or a lipstick. It adds a subtle yet chic detail to the overall design of the blouse.

The collar and cuffed short sleeves of the Georgina Linen Button Top enhance its polished and put-together aesthetic. The collar adds a touch of structure, while the cuffed sleeves create a clean and refined look. This blouse strikes the perfect balance between casual and sophisticated, allowing you to dress it up or down according to your preference.

Embrace the comfort and style of the Georgina Linen Button Top. Its 100% cotton fabric, hi-lo profile, front chest pocket, collar, and cuffed short sleeves make it a reliable and fashionable choice. Whether you're attending a casual outing or a more formal event, this blouse will effortlessly elevate your look.