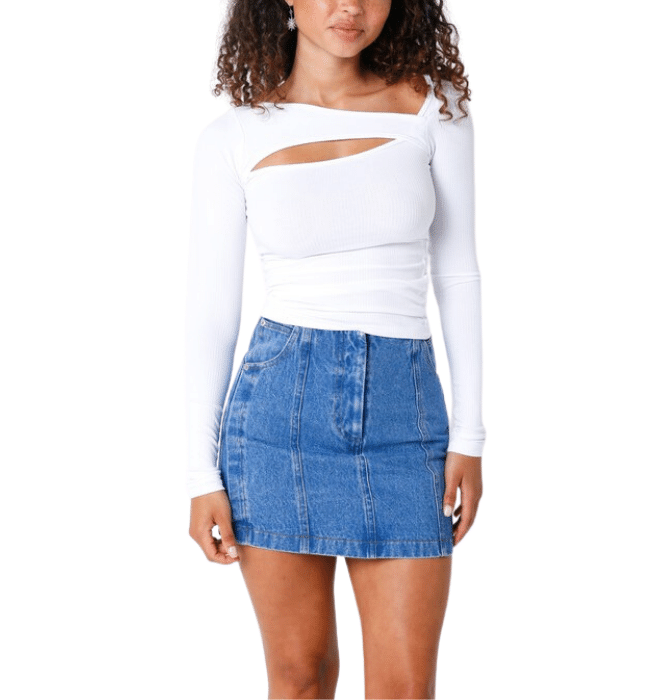 Abrianna Cut Out Top
Introducing our "Sculpted Elegance" Ribbed Cut-Out Long Sleeve Top – a perfect blend of style, comfort, and a touch of daring sophistication. This top is designed to enhance your natural curves while adding a contemporary edge to your outfit.
Features:
1. Ribbed Texture: The ribbed design of this top adds depth and texture, creating a modern and visually appealing look that flatters your figure.
2. Fitted Silhouette: The top is designed to be form-fitting, accentuating your curves and providing a sleek, confident look.
3. Stylish Cut-Outs: The strategically placed cut-outs add a touch of allure to the top, giving it an edgy vibe that's perfect for both casual and dressier occasions.
4. Comfortable Stretch: Made from a blend of 92% cotton and 8% spandex, this top offers the perfect amount of stretch, allowing you to move freely while maintaining its shape.
Sizing Information:
Available in a range of sizes, you can choose the perfect fit to complement your style.
Quality You Can Feel:
The high-quality fabric ensures not only a comfortable fit but also a durable top that will last through many wears and washes.
Versatile Elegance:
Dress up for a night out or pair with your favorite jeans for a more casual look; the "Sculpted Elegance" top is incredibly versatile, allowing you to create various outfits that suit your mood and the occasion.
Experience the confidence that comes from wearing a top that's both stylish and comfortable. The ribbed texture, fitted silhouette, and trendy cut-outs make the "Sculpted Elegance" top a must-have addition to your wardrobe. Embrace the modern sophistication it offers and enjoy the luxurious feel of the cotton-spandex blend. Express your style with this top that effortlessly combines fashion and comfort.