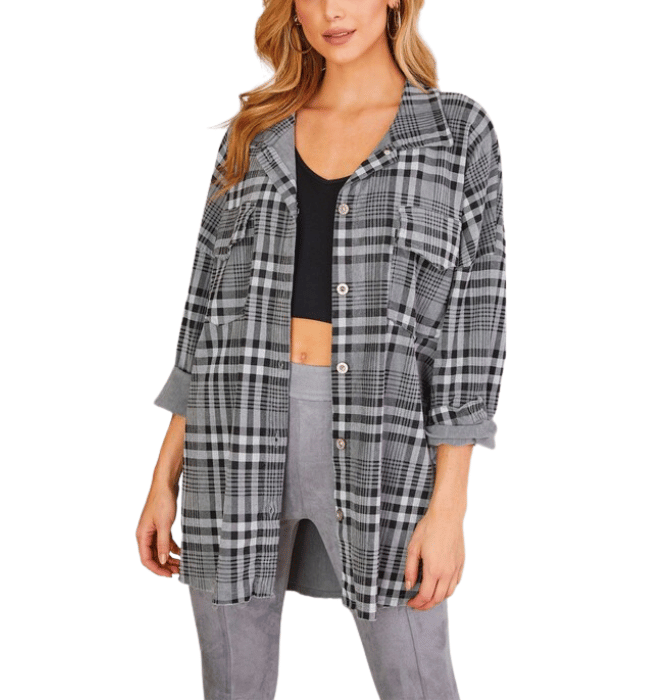 Brynn Boyfriend Flannel Top
Brynn Boyfriend Flannel Top, a chic and comfortable addition to your wardrobe that exudes effortless style. Carefully crafted with attention to detail, this flannel shirt is a must-have for fashion-conscious women.
Key Features:
Plaid Print Perfection: The Brynn Flannel Top showcases a classic plaid print with a black and gray color scheme. This timeless pattern adds a touch of rustic charm and style to your outfit.
Oversized Design: Embrace the relaxed and comfortable fit of the boyfriend flannel style. The oversized silhouette exudes laid-back elegance, allowing you to enjoy both comfort and a fashion-forward look.
Silver Button Details: The silver buttons are a tasteful embellishment that adds a touch of sophistication to this flannel top. They create an eye-catching contrast against the dark plaid pattern, elevating the overall aesthetic.
Quality Fabric Blend: Made in Italy, this top is crafted from a high-quality blend of 75% viscose, 20% nylon, and 5% elastic. The fabric offers a luxurious feel against your skin and provides a slight stretch for ease of movement.
Versatile Styling: The Brynn Boyfriend Flannel Top is perfect for various occasions. Whether you're layering it for a cozy winter look or wearing it as a statement piece in milder weather, this flannel shirt effortlessly complements your fashion choices.
Timeless Black and Gray: The black and gray color palette is a versatile choice that pairs seamlessly with jeans, leggings, or a skirt. It's perfect for creating stylish ensembles for different occasions.
The Brynn Boyfriend Flannel Top is more than just a shirt; it's an expression of your unique style and comfort. Whether you're going for a casual outing, a laid-back day at the office, or just a cozy day at home, this flannel top is your go-to piece.
Elevate your fashion game and make a statement with the Brynn Boyfriend Flannel Top. Order yours today and experience the perfect blend of style and comfort, made in Italy for the discerning fashionista!