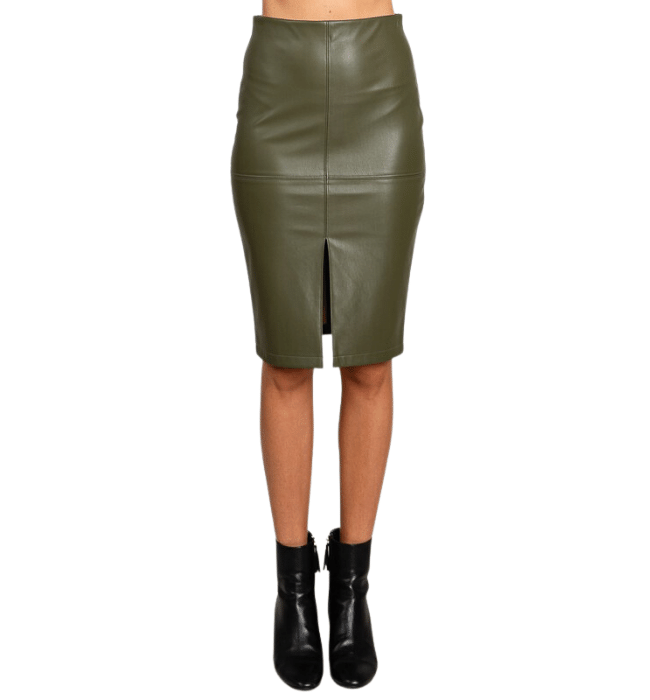 Carrie Front Stitch Pencil Skirt
Carrie Front Stitch Pencil Skirt – a stunning and comfortable addition to your wardrobe designed to make a bold fashion statement. Crafted from olive vegan leather, this pencil skirt combines style, stretch, and sophistication. Here's why you'll love it:
Olive Vegan Leather: The Carrie Front Stitch Pencil Skirt features a chic cross-stitch pattern on olive vegan leather, giving it a distinctive and edgy look. This cruelty-free alternative offers both style and a clear conscience.
Naturally Stretchy Fabric: The fabric is naturally stretchy, ensuring a comfortable and flexible fit that moves with your body. It's perfect for keeping you comfortable while maintaining a sleek silhouette.
Elastic Waistband: The elastic waistband makes this skirt easy to pull on, ensuring a secure and comfortable fit without the need for cumbersome closures.
Back Zipper Fastening: For added convenience and a polished look, the skirt is equipped with a back zipper fastening. It allows for easy wearing and removal while maintaining a seamless appearance.
Front Center Slit: The front center slit adds a touch of allure and mobility to the skirt. It not only enhances your style but also allows for ease of movement.
Fleece Lined: The skirt is fleece lined, providing extra warmth and comfort, making it suitable for various seasons and occasions.
Fabric Contents: Crafted from a blend of Polyurethane (65%) and Polyester (35%), this skirt offers a sleek and stylish look with a leather-like feel. It's both durable and easy to maintain.
The Carrie Front Stitch Pencil Skirt is a versatile and chic addition to your wardrobe. Whether you're dressing it up with heels and a blouse for a night out or pairing it with a sweater and boots for a stylish day at the office, this skirt is a fashion-forward choice that ensures comfort without compromising on style. Make a statement with this vegan leather pencil skirt and embrace a bold and confident look.