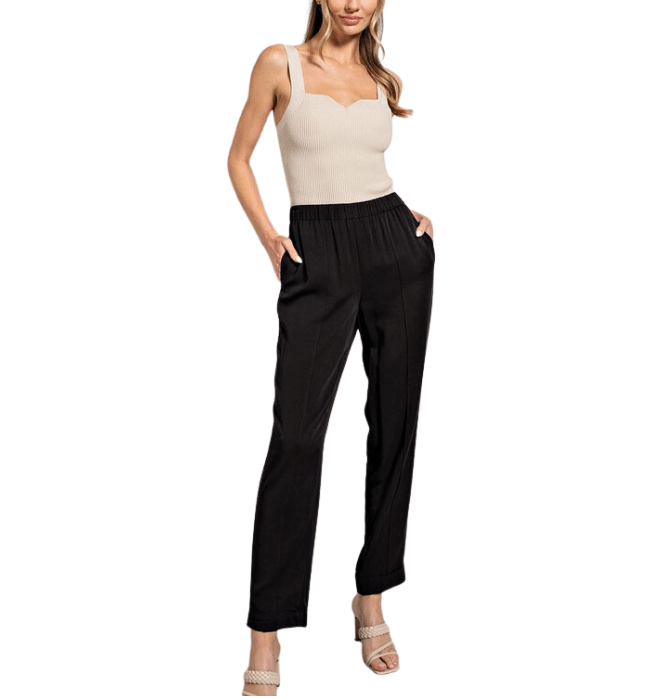 Coco Black Dress Pants
Coco Black Dress Pants, a stylish and comfortable choice for any occasion. These casual dress pants offer a polished look with added seam details that create dimension and visual interest.

The Coco Black Dress Pants feature an elastic waistband, ensuring a comfortable and adjustable fit. The elastic waistband provides ease of movement and flexibility, making these pants ideal for all-day wear. Whether you're at the office or going out for a casual outing, these pants offer both style and comfort.

Designed with practicality in mind, these dress pants include two front side pockets and one back pocket. The pockets not only add functionality but also enhance the overall look of the pants. They provide convenient storage for small essentials, such as your phone, keys, or wallet.

Crafted from 100% polyester fabric, the Coco Black Dress Pants offer durability and easy care. The polyester fabric is resistant to wrinkles and retains its shape, ensuring a polished and professional appearance. Additionally, the fabric provides a smooth and lightweight feel, allowing for breathability and comfort throughout the day.

Upgrade your wardrobe with the Coco Black Dress Pants and experience the perfect combination of style and versatility. With their added seam details, elastic waistband, and functional pockets, these pants are a must-have for the modern woman. Elevate your outfit and embrace comfort and style with the Coco Black Dress Pants.