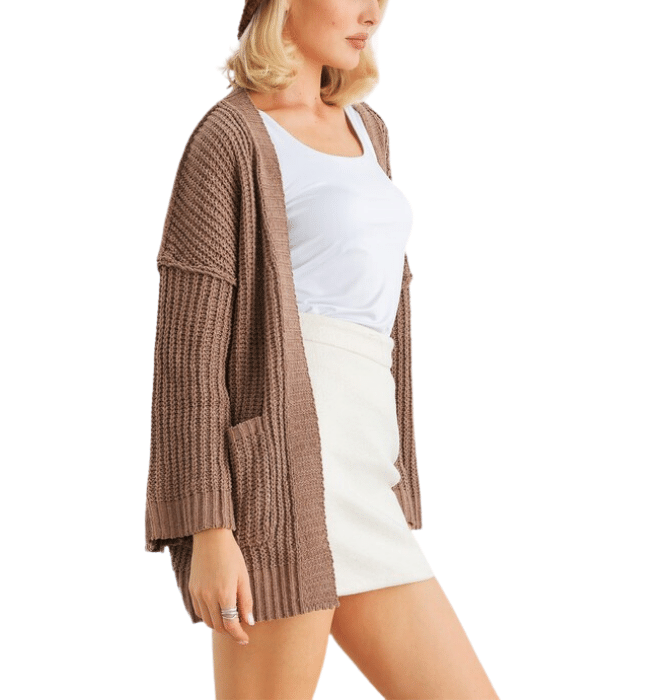 Hot Cocoa Open Front Pocket Cardigan
Hot Cocoa Open Front Pocket Cardigan, a delightful addition to your fall and winter wardrobe. Crafted in a rich Cocoa color from a blend of 95% Polyester, 3% Acrylic, and 2% Spandex, this cardigan is the epitome of comfort and fashion.
The cocoa-colored knit material adds a touch of elegance to your outfit, reminiscent of a cozy cup of cocoa on a chilly day. With long sleeves and dropped shoulders, this cardigan offers a relaxed fit that wraps you in warmth and charm.
Two generously sized pockets not only add a touch of practicality but also a trendy element to the design. Whether you're running errands, going for a walk, or just lounging at home, these pockets provide a convenient spot to keep your essentials close at hand.
The open front design is not only inviting but also versatile, allowing you to layer your outfit effortlessly. The relaxed fit offers a cozy and comfortable feel, making this cardigan the ideal choice for the fall and winter months.
Cute, warm, and undeniably cozy, the Hot Cocoa Open Front Pocket Cardigan is the go-to choice for those looking to embrace the season in style. Wrap yourself in warmth and elegance and enjoy the fashionable and functional appeal of this charming cardigan. Don't miss out on the opportunity to make it a staple in your wardrobe.