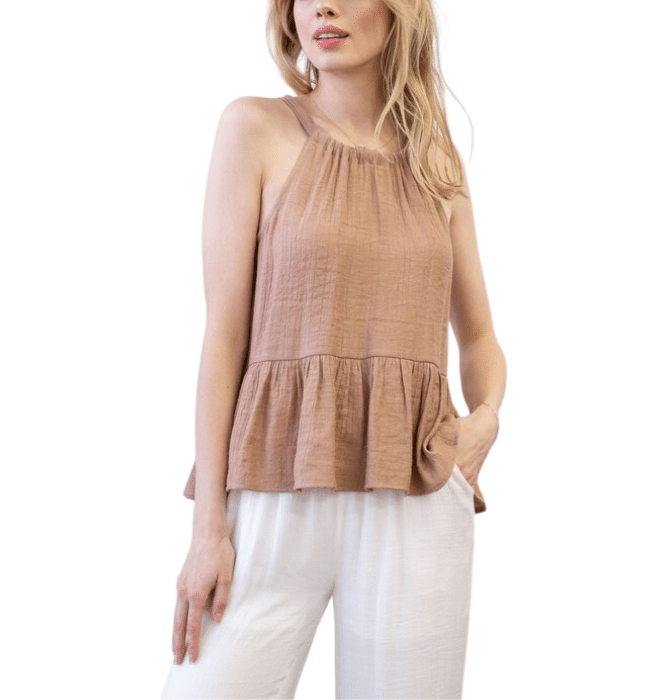 Jinny Mocha Tank
Introducing our Back Tie Peplum Woven Top, a stylish and sophisticated piece that effortlessly combines feminine details with a touch of elegance. This top features a round neckline with a self back tie, creating a flattering and adjustable fit that adds a unique and fashionable element to your ensemble.
The sleeveless design of this top allows for easy movement and a breezy feel, making it perfect for warmer weather or for layering with your favorite cardigans or jackets. The back keyhole adds a subtle and alluring detail, adding an extra touch of charm to the overall design.
Crafted with meticulous attention to detail, this top features a tiered hem that adds a playful and flirty touch. The pleated neckline and hem detail provide texture and visual interest, elevating the overall look and creating a sophisticated appeal.
Made from a blend of 64% rayon and 36% polyester, this top offers a soft and lightweight feel against your skin. The combination of these materials ensures durability and easy maintenance, making it suitable for everyday wear.
Please note that this top is not lined, allowing for a more lightweight and breathable experience. This also makes it a versatile piece that can be dressed up or down, depending on the occasion.
The Back Tie Peplum Woven Top is available in various sizes to suit different body types. Pair it with jeans, skirts, or tailored pants to create stylish and versatile looks for both casual and more formal events.
Experience the sophistication and charm of our Back Tie Peplum Woven Top, crafted with a round neckline, self back tie, tiered hem, and pleated neckline and hem detail. Made from a blend of rayon and polyester, this top offers both comfort and style. Elevate your wardrobe with this chic and feminine top, designed to make a statement wherever you go.