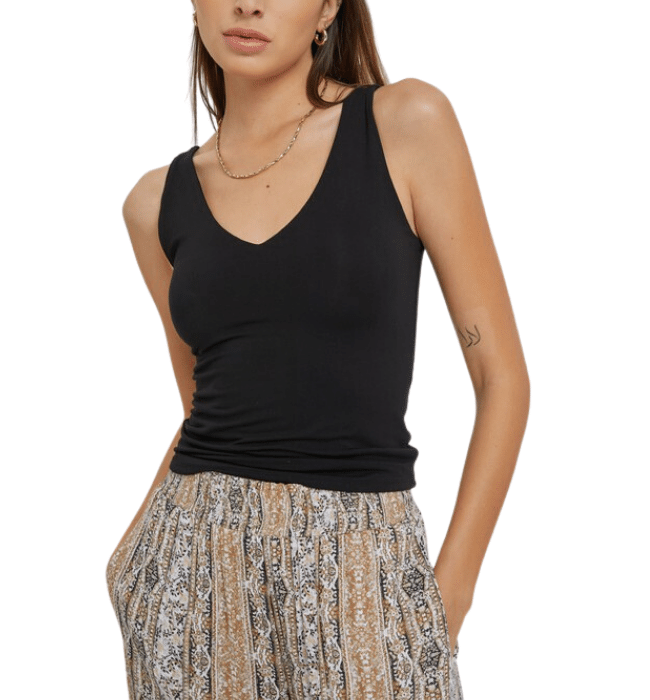 Keaton V-Neck Tank
Introducing our Basic V-Neck Tank, a staple piece that combines comfort, versatility, and style. This tank top is designed to be soft, stretchy, and made with a full-length jersey, ensuring a comfortable fit for all-day wear.
The classic V-neckline adds a touch of sophistication and allows for easy layering or wearing on its own. The tank is made of a spandex mix material, providing flexibility and a flattering silhouette that comfortably hugs the body. Whether you're running errands, going to the gym, or lounging at home, this tank will keep you feeling comfortable and looking effortlessly chic.
To ensure extra security, the tank top is double lined, providing coverage and peace of mind. The 95% rayon composition contributes to its softness and lightweight feel, while the 5% spandex adds stretch and flexibility, allowing the tank to move with your body.
This versatile tank pairs well with various bottoms, including jeans, shorts, skirts, or leggings, making it a perfect foundation for countless outfits. Dress it up with a blazer and trousers for a more polished look or keep it casual with denim and sneakers. The options are endless, and this tank will effortlessly transition from day to night.
Embrace the comfort and style of our Basic V-Neck Tank, made from a high-quality blend of materials. Its softness, stretchiness, and classic design make it a must-have addition to your wardrobe, providing endless possibilities for effortless and chic outfits.