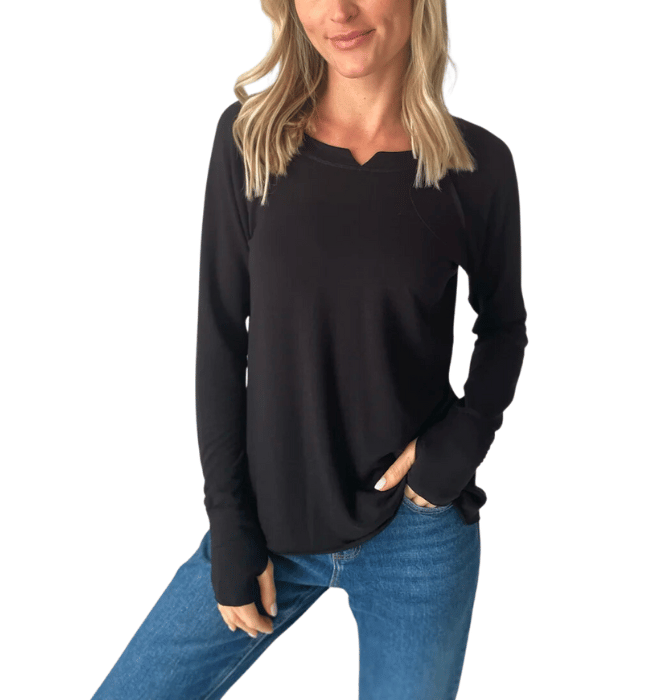 Payton Thumbholes Top
Introducing the Payton Long Sleeve Top, where luxurious comfort meets modern style in a tee that's an absolute must-have for your wardrobe. This versatile top redefines the classic tee with its unique details and elevated design, making it a perfect choice for any occasion.

Immerse yourself in the silky softness of the Payton Top. Crafted from a premium fabric blend of 48% polyester, 48% rayon, and 4% spandex, this top feels incredibly luxurious against your skin. It's the kind of comfort you'll want to experience every day, making it an ideal choice for both casual outings and those times when you want to relax in style.

The Payton Top stands out with its split neckline, adding a touch of sophistication to a timeless design. The raw hem and elongated back give it an edge, making it a fashionable statement piece that's perfect for those who appreciate the finer details in their clothing.

Designed with the relaxed fit you love, this top provides a comfortable and laid-back vibe that's perfect for easygoing days. But it doesn't stop there – it offers a more elevated feel, making it suitable for a wide range of occasions. Whether you're meeting friends for coffee, heading to the office, or simply enjoying some downtime, the Payton Top ensures you're always dressed in effortless style.

One of its standout features is the addition of thumb holes, providing a subtle yet stylish touch that sets this top apart. These thumb holes not only enhance the overall look but also keep your hands cozy and warm, making this top perfect for cooler days or evenings.

Elevate your everyday look with the Payton Long Sleeve Top, the embodiment of comfort, style, and versatility. It's time to experience the luxurious feel and elevated design that this top brings to your wardrobe. Get ready to fall in love with a tee that's perfect for you!