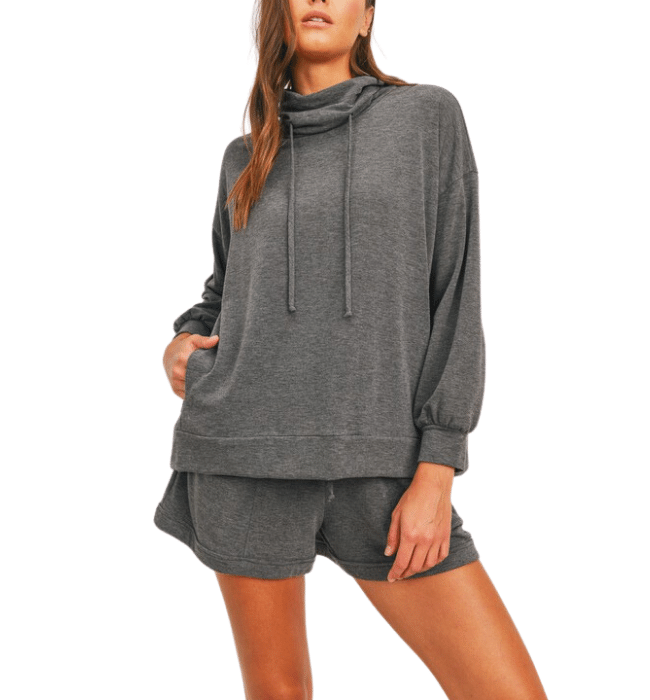 Raelen Cowl Neck Drawstring Top
Revitalize Your Wardrobe with the Raelen Cowl Neck Drawstring Top
Introducing the Raelen Cowl Neck Drawstring Top in Charcoal – a must-have piece that effortlessly combines style, comfort, and versatility. Crafted for everyday wear, this top promises a contemporary aesthetic without compromising on the ease of movement and relaxed charm you crave.
Key Features:
Cowl Neck with Drawstring Detail: The Raelen Top features a stylish cowl neck with a drawstring detail, allowing you to customize your look. Whether you prefer a draped and cozy cowl or a cinched, contemporary style, this top caters to your individual taste.
Stretch and Everyday Comfort: Made from a luxurious blend of 63% polyester, 33% rayon, and 4% spandex, this top offers a perfect balance of stretch and comfort. Experience the freedom of movement and enjoy an all-day comfortable fit.
Loose Fit: Embrace the laid-back elegance of a loose fit that gracefully drapes over your silhouette. The Raelen Top effortlessly combines comfort and style, making it an ideal choice for both casual outings and relaxed evenings.
Side Pockets: Practicality meets style with the inclusion of side pockets. Perfect for stashing small essentials or simply keeping your hands warm, these pockets add a touch of functionality to this fashionable top.
Drop Shoulder: The drop shoulder design adds a modern twist to the silhouette, creating a relaxed and casual vibe. It's a thoughtful detail that enhances the overall aesthetic of the top.
The Raelen Cowl Neck Drawstring Top in Charcoal is a versatile wardrobe staple that seamlessly transitions from day to night. Pair it with your favorite leggings or jeans for a laid-back weekend look, or dress it up with tailored pants and heels for a chic ensemble.
Upgrade your wardrobe with the Raelen Top – where style meets comfort. Add it to your cart now and experience the perfect blend of fashion-forward design and everyday ease.