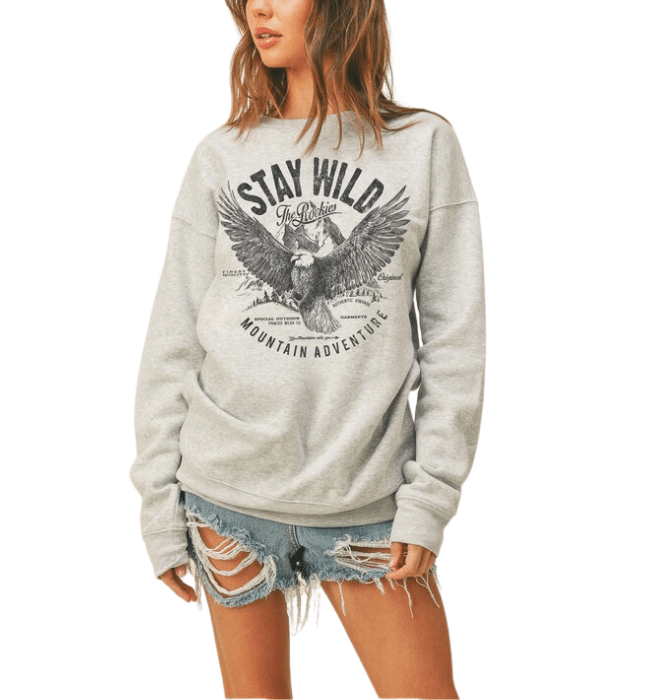 Rocky Mountains Stay Wild Graphic Sweatshirt
Experience the cozy comfort and striking design of the Rocky Mountains Stay Wild Graphic Sweatshirt. Crafted with meticulous attention to detail, this sweatshirt is a perfect blend of style and comfort, making it a must-have addition to your wardrobe.
Key Features:
Stay Wild Graphic: Embrace the spirit of adventure and freedom with our "Stay Wild" graphic, featured prominently on the front of this sweatshirt. The bold black lettering stands out beautifully against the heather gray background, creating a stylish contrast that captures the essence of the Rocky Mountains.
Premium Fabric Blend: This sweatshirt is made from a high-quality blend of 60% cotton and 40% polyester. The cotton ensures softness and breathability, while the polyester provides durability and shape retention. It's a perfect combination for lasting comfort.
Brushed Fleece Lining: Inside, you'll find a plush brushed fleece lining that keeps you warm and cozy during cooler seasons. It's like a warm embrace, making this sweatshirt ideal for outdoor adventures or snuggling up indoors.
Relaxed Fit: Enjoy the freedom of movement and relaxed comfort with this sweatshirt's loose, yet flattering fit. It's perfect for layering over your favorite t-shirts or tank tops, ensuring you stay stylish and comfortable.
Drop Shoulder: The drop shoulder design adds a touch of contemporary style to the classic sweatshirt look. It enhances the overall fit and makes it even more comfortable for all-day wear.
Easy Pullover Style: Getting dressed has never been easier. The pullover style is hassle-free and convenient, making it a go-to option for quick, on-the-go fashion.
Tear Away Label: Say goodbye to scratchy, bothersome labels. This sweatshirt features a tear-away label, ensuring maximum comfort without any irritations.
The Rocky Mountains Stay Wild Graphic Sweatshirt is not just an article of clothing; it's a statement piece that allows you to express your love for adventure and the great outdoors. Whether you're exploring the wilderness or enjoying a cozy evening at home, this sweatshirt will be your trusted companion.
Don't miss out on the chance to own a sweatshirt that seamlessly blends style and comfort. Order your Rocky Mountains Stay Wild Graphic Sweatshirt today and make a bold fashion statement that celebrates your adventurous spirit!