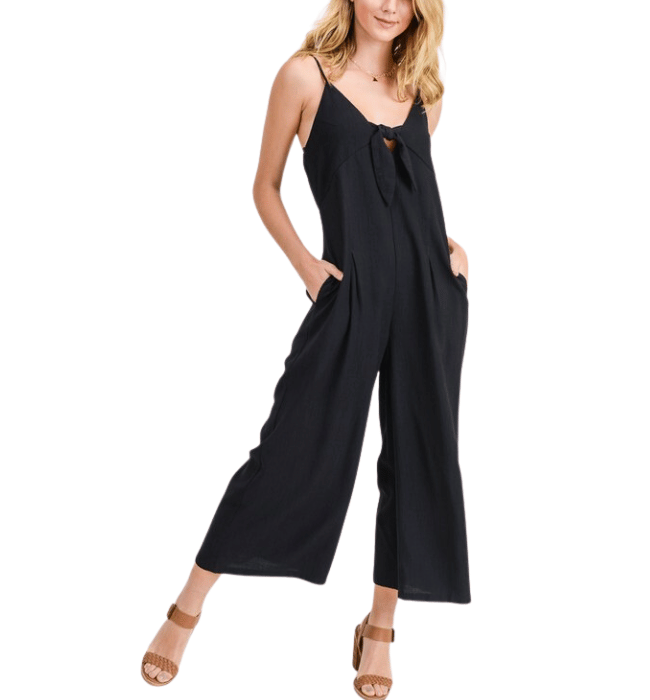 Ryland Tie Front Black Jumpsuit
Introducing our Ryland Tie Front Black Jumpsuit, the epitome of effortless style and comfort. This jumpsuit is designed to make a statement, whether you're attending a special occasion or simply want to elevate your everyday look.

Crafted with care, this jumpsuit features a front tie detail that adds a touch of elegance and visual interest. The tie can be adjusted to your desired fit, allowing you to accentuate your waistline and create a flattering silhouette.

The back smocked cami design not only adds a unique and eye-catching element but also provides a comfortable and flexible fit. The smocked detailing ensures a snug yet stretchy fit, allowing you to move with ease and comfort.

Made from 98% Polyester 2% Nylon, this jumpsuit is lightweight, breathable, and perfect for warmer weather. The fabric drapes beautifully and feels soft against your skin, providing a relaxed and luxurious feel throughout the day.

The black color adds a touch of sophistication, making it easy to dress up or down for any occasion. Whether you pair it with heels and statement jewelry for a glamorous look or style it with sandals and a denim jacket for a more casual vibe, this jumpsuit is a versatile addition to your wardrobe.

With its wide-leg silhouette and pleated details, this jumpsuit exudes a sense of effortless chic. It elongates your figure and creates a streamlined look, while also offering comfort and ease of movement.

Experience the perfect blend of style and comfort with our Ryland Tie Front Black Jumpsuit. Embrace your individuality and make a fashion statement that reflects your unique personality. Add this jumpsuit to your cart today and step into a world of elevated style and undeniable confidence.