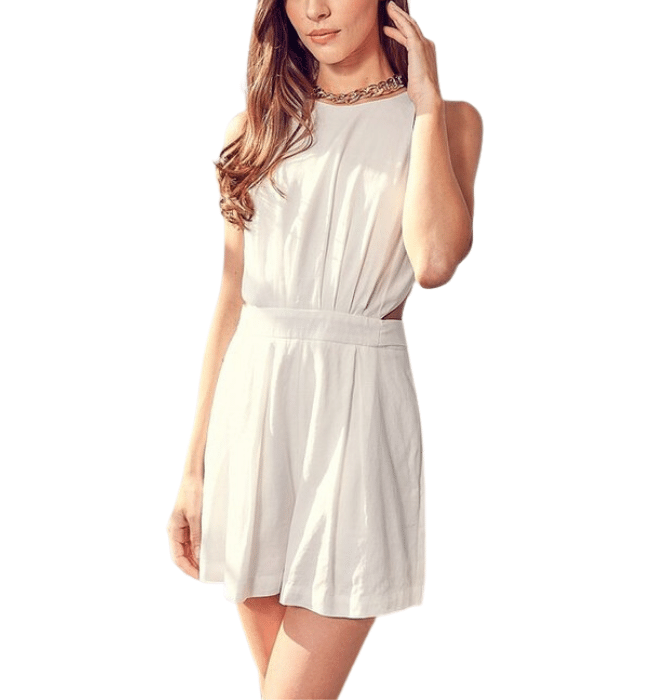 Senna White Cut Out Romper
Introducing our White Side Cut Out Tie Back Romper, a chic and trendy piece that combines style and comfort effortlessly. This romper features side cut-outs and a tie-back design, adding a touch of allure and a playful twist to your summer wardrobe.
Crafted with meticulous attention to detail, this romper boasts a flattering and versatile silhouette. The side cut-outs create a visually interesting and unique look, allowing for a hint of skin to peek through, while maintaining a sophisticated and classy appeal. The tie-back design adds an adjustable and personalized fit, ensuring comfort and ease of wear.
Made from a blend of 66% rayon and 45% polyester, this romper offers a soft and breathable feel against your skin. The fabric blend provides a comfortable and lightweight fit, making it perfect for warm weather. Additionally, this romper is lined to offer additional coverage and prevent transparency.
The side pockets add functionality to this stylish romper, allowing you to keep small essentials close at hand while on the go. They also add a casual and relaxed touch, making this romper suitable for both casual outings and more dressed-up occasions.
In a classic white color, this romper exudes freshness and versatility, making it easy to pair with your favorite accessories and footwear. Dress it up with heels and statement jewelry for a night out, or style it with sandals and a floppy hat for a chic and casual daytime look.
Experience the perfect combination of style and comfort with our White Side Cut Out Tie Back Romper. Made from a blend of rayon and polyester, lined, and featuring side pockets, this romper offers both functionality and fashion-forward appeal. Embrace the playful side cut-outs and adjustable tie-back design, and make a fashion statement wherever you go.