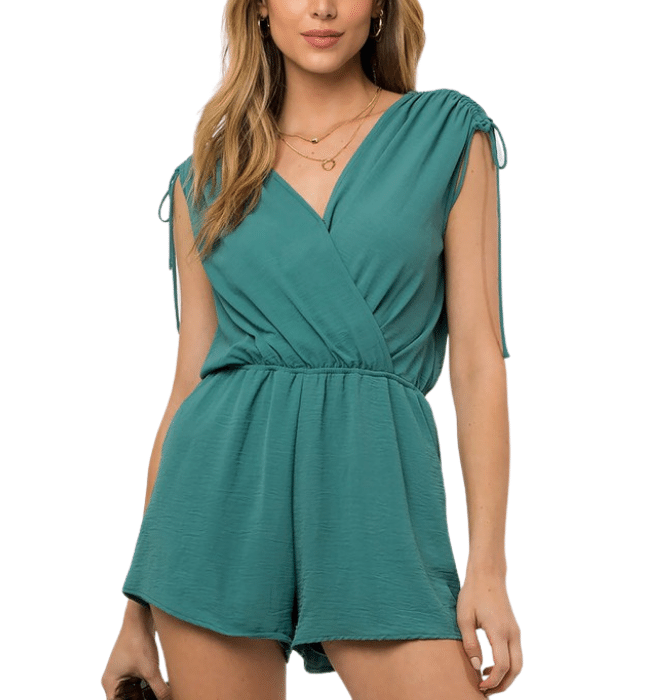 Viv Teal Tie Back Romper
Introducing our Teal Tie Back Romper, a stylish and vibrant piece that combines comfort and fashion effortlessly. This romper features a playful tie back design, shoulder ties, and convenient side pockets, making it a versatile and trendy choice for any occasion.
Crafted with care, this romper is made from 100% polyester fabric. The polyester material offers a lightweight and breathable feel, ensuring all-day comfort. It drapes beautifully and has a smooth texture that adds a touch of elegance to the overall look.
The teal color adds a vibrant and eye-catching element to this romper. It's a refreshing and versatile shade that can be easily paired with various accessories and shoes. Whether you're heading to a summer party, a beach getaway, or a casual outing, this romper will make you stand out in style.
The tie back design adds a playful and flirty touch to the romper. It creates an adjustable and customizable fit, allowing you to accentuate your waistline and create a flattering silhouette. The shoulder ties add an extra feminine detail, adding a hint of charm to the overall design.
This romper also features convenient side pockets, providing a practical and functional element. You can keep small essentials within easy reach, such as your phone, keys, or lip balm, without the need for a bag or purse.
Style this romper with sandals or wedges for a casual and effortless look, or dress it up with heels and statement accessories for a more elevated ensemble. Whether you're going for a laid-back or dressed-up vibe, this romper offers versatility and endless possibilities.
Experience the perfect combination of style and comfort with our Teal Tie Back Romper. Made from 100% polyester, this romper offers a lightweight and elegant feel. Embrace the tie back design, shoulder ties, and convenient side pockets, and enjoy the fashionable and practical look this romper provides.