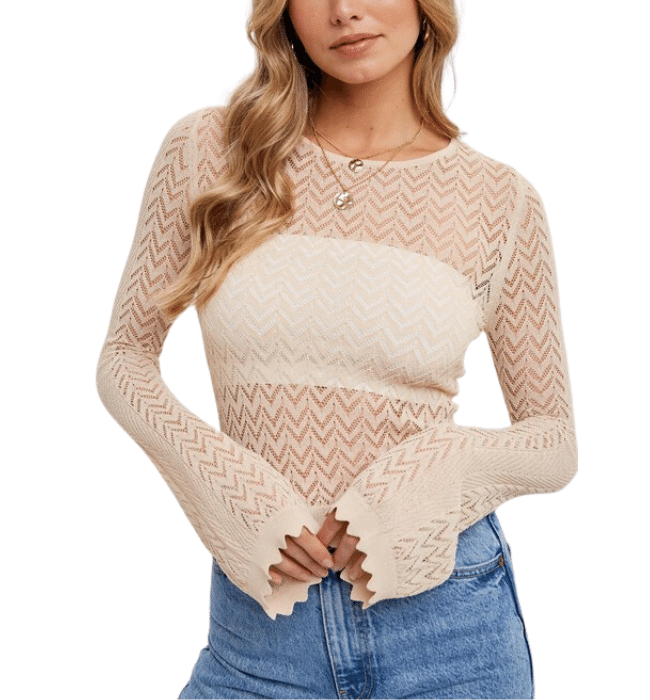 Vendetta Semi Sheer Bell Sleeve Top
Vendetta Semi Sheer Bell Sleeve Top, a fashionable and lightweight piece that adds a touch of elegance to any outfit. This long sleeve knitted top is designed with a sheer fabric, creating a stylish and subtly revealing look.

Crafted with care, this top is made from a blend of 62% viscose and 38% nylon, offering a soft and comfortable feel against your skin. The sheer knitted fabric adds a touch of sophistication and allure, making it a versatile choice for both casual and dressier occasions.

The round neckline adds a classic and timeless element to the design, providing a flattering and feminine touch. It allows for easy layering with accessories such as statement necklaces or scarves, enhancing your overall look.

The bell sleeves add a fashionable and dramatic flair to the top, creating a visually striking silhouette. The sheer fabric of the sleeves adds a touch of allure, while the bell shape adds movement and flow to your outfit.

This Vendetta Semi Sheer Bell Sleeve Top can be effortlessly paired with various bottoms to create a chic and trendy ensemble. Pair it with high-waisted jeans for a casual yet stylish look, or dress it up with a skirt and heels for a more formal occasion.

Experience the perfect blend of fashion and comfort with our Vendetta Semi Sheer Bell Sleeve Top. Its sheer knitted fabric, round neckline, and bell sleeves make it a must-have addition to your wardrobe.