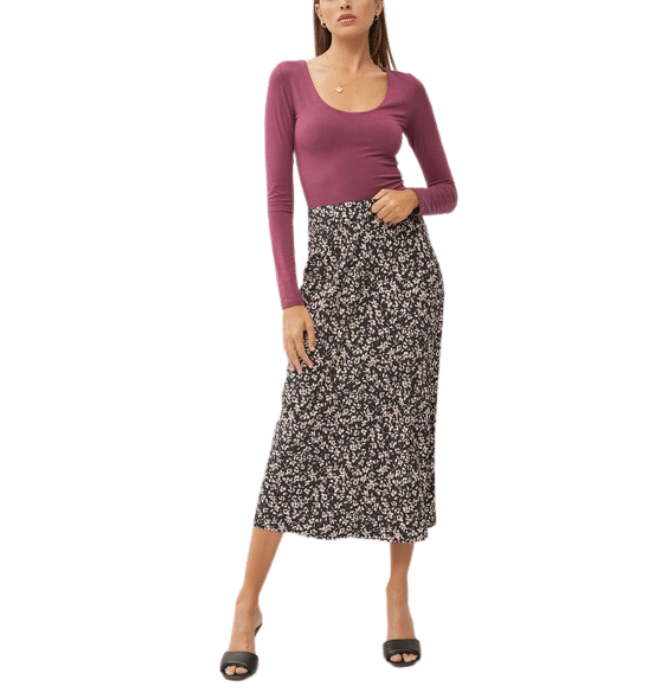 Verona Floral Midi Skirt
Elevate your autumn wardrobe with our Verona Floral Print Midi Skirt, a versatile piece that effortlessly combines fashion and comfort.
This flattering floral skirt is designed to be the highlight of your fall fashion collection. Crafted from 100% polyester, it boasts a luxurious feel while remaining lightweight and easy to care for. The fabric drapes beautifully, ensuring both style and comfort.
The elastic band at the waistline provides a snug and adjustable fit, making it easy to slip on and off. No more sacrificing comfort for style – this skirt offers the best of both worlds.
With a flirty hemline, this skirt adds a touch of playfulness to your ensemble. It's perfect for twirling and dancing, whether you're going to a casual daytime event or dressing up for a special night out.
The Verona Floral Print Midi Skirt is a versatile piece that transitions seamlessly from day to night, making it perfect for every occasion this fall. Pair it with a cozy sweater and ankle boots for a chic daytime look, or dress it up with a blouse and heels for an elegant evening outfit.
Don't miss the chance to add this wardrobe essential to your collection. Order the Verona Floral Print Midi Skirt today and make a statement this fall with style and confidence.