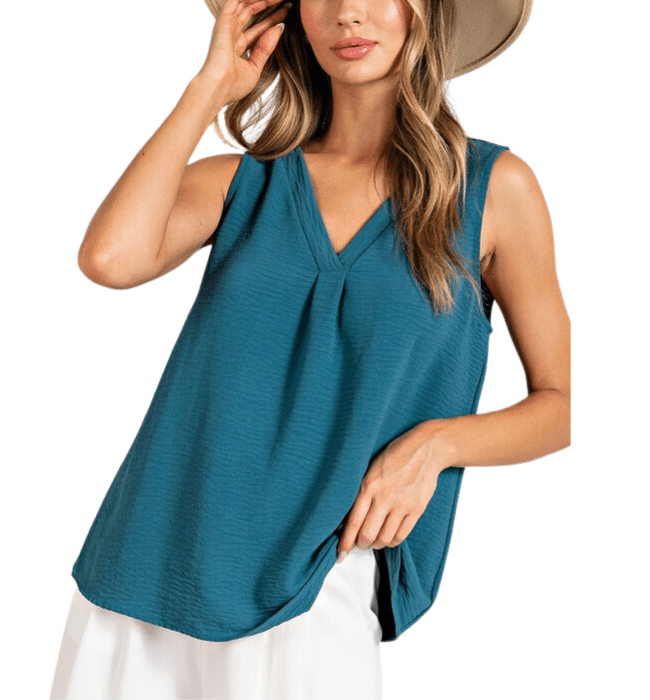 Ziba V-Neck Sleeveless Top
The Ziba V-Neck Sleeveless Top, a versatile and essential piece for your everyday wardrobe. This sleeveless top is designed with a flattering V-neckline and offers a flowy fit that is both comfortable and stylish.

What sets the Ziba V-Neck Sleeveless Top apart is its fabric. Made from USA fabric, this top is crafted from 100% polyester textured fabric. The textured design adds visual interest and dimension to the top, elevating its overall look. The polyester fabric offers durability, ensuring the top retains its shape and quality wear after wear.

With its basic yet timeless design, the Ziba V-Neck Sleeveless Top is perfect for everyday wear. It's a versatile piece that can be easily paired with jeans, skirts, or shorts to create a variety of stylish outfits. Whether you're heading to the office, running errands, or meeting friends for a casual outing, this top is a reliable choice that effortlessly elevates your style.

The flowy fit of the Ziba V-Neck Sleeveless Top provides both comfort and a flattering silhouette. It drapes beautifully on the body, offering a relaxed and effortless look. You can enjoy the freedom of movement while maintaining a chic and feminine appearance.

This top's V-neckline adds a touch of sophistication and allows for easy layering with your favorite necklaces or pendants. It's a versatile feature that enhances the overall style of the top while also allowing you to showcase your personal accessories.